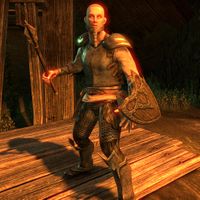 Blackheart Strongarms are Nord tanks associated with the Pirates who can be found in Blackheart Haven.
Related Quests
Edit
Quest-Related Events
Edit
Once Atarus is dead and Atarus's Skull is retrieved, Shifty Tom will ask for the skull and the following happens:
Shifty Tom: "Now, let me see that thing."
Shifty Tom: "Here we go."
He places the skull on ground.
Shifty Tom: "Finally, this nightmare will come to an end."
A group of Blackheart pirates will come out into the cavern.
Blackheart Strongarm: "Are you insane, Shifty? You'll kill us all!"
Shifty Tom: "That's the point, friend! This is no way for a man to live."
Shifty destroys the skull, and the pirates turn into skeletons. Every pirate except Shifty then attacks you.