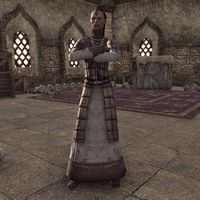 Bezhneh is a Redguard fisher found on the Sentinel Docks after you clear the Ra-Netu by completing the quest Risen From the Depths. She is located in the Warehouse where the dead are being prepared for burial. Bezhneh is working with Zawah to get this done and is not pleased to see you due to her beliefs about striking down ancestors.
"You are the one who struck the Ra-Netu? You will forgive me for not taking your hand in friendship."
Why the hostility?

"Please, do not play the part of the fool. To strike our ancestors is a shameful and blasphemous act. You must know that."

What are you doing in here?

"We are doing our best to wrap and sanctify our honored dead. Many are hacked and cleaved and require dressing. What happened here was abhorrent."
What will you do once they've been attended to?
"We will attempt to rebury them with some modest dignity. Now, I mean no disrespect, but I must ask you to leave. The taint you bear may affect our rituals."