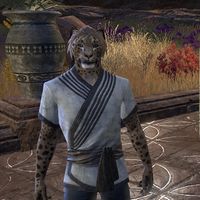 Adept Runji is a Khajiit adept of the Star Haven Adeptorium. He is encountered during the tutorial quest for Elsweyr.
Related Quests
Edit
Quest-Related Events
Edit
Runji is first seen being accosted by Captain Carvain along with Adept Izjadi and Adept Birun. He will faint during the encounter.
The next time you see Adept Runji and his companions will be after the Dragon is called away, and you have escaped. You can speak to him.
"Here you are, saving all of us with your heroic deeds, and what does Runji do? He faints at the first sight of danger!
If we are to survive, he must become stronger. He must."