Online:Adept Izjadi
The UESPWiki – Your source for The Elder Scrolls since 1995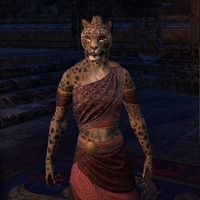 Adept Izjadi is an adept of the Star Haven Adeptorium. She is encountered during the tutorial quest for Elsweyr.
Related Quests
[
edit
]
Quest-Related Events
[
edit
]
Izjadi is first seen being accosted by Captain Carvain along with Adept Birun and Adept Runji.
Adept Izjadi: "Stop this! Star Haven's adepts are peaceful!"
You will get to speak with her after Captain Carvain is dead.
Adept Izjadi: "Thank Jone and Jode you arrived."
"Well, it looks like you've certainly recovered from your wounds. And just in time to put that Euraxian jekosiit in his place!
Ziss'vo, is this one grateful we found you in that wreckage."
Do you know why the adeptorium is under attack?
"The soldiers said they were searching for something, but they barely gave us any chance to respond before they started attacking.
It is best to leave. There is no reasoning with these maniacs."
They have a Dragon as well. That makes escaping difficult.
"Yes, this one heard its terrible voice. Like something out of a Moon-Singer's stories.
Izjadi had hoped to make her way to the Dragonhorn Tower, but she fears that fierce warriors now block her path. Not to mention the Dragon circling overhead."
What's in the Dragonhorn Tower?
"Atop the tower sits the Dragonhorn, said to ground Dragons with one mighty call. Though Izjadi is not sure if the legends are true, it is our best hope against such a brutal foe.
All we need is someone to blow the horn. It seems folly not to try."
I'll find this Dragonhorn and see if it can defeat the Dragon.
"Then you must exit the catacombs and follow the path north. There you will see the tower.
This one cannot promise the plan will work, of course. The Dragonhorn is very ancient, very brittle. But we must try, yes? Moons be with us."
Tell me more about Dragonhorn Tower.

"Many Moons ago, Akaviri warriors known as the Dragonguard protected this land.
It was they who built the Dragonhorn Tower, a gift to safeguard Star Haven against the Dragons that once plagued Elsweyr."
So the Dragonguard helped Elsweyr fight against the Dragons?

"So the legends say. What a shame the Dragonguard no longer walk the sands of Elsweyr. We could use such warriors during these troubling times."

What will you do now?

"We will wait until you have blown the Dragonhorn. If the Dragon is subdued, that will be our best chance to escape. If not, well, we will try to be swift."
The Grand Adept and Zamarak should be heading out as well.

"That is good to hear. Izjadi feared the worst.
If you see them again, try to stay by the Grand Adept's side. He may seem steady as a rock, but age has caused his edges to crumble."
The next time you see Adept Izjadi and her companions will be after the Dragon is called away, and you have escaped. You can speak to her.
"Izjadi will look after her fellow adepts, don't you fear. Though this one knows it will not be easy to return Star Haven to its former glory."
After the quest, she and the Grand Adept will have a short conversation:
Adept Izjadi: "Grand Adept Ma'jha-dro? What will we do now?"
Adept Birun: "Star Haven is no longer safe. Who knows when it will be attacked again?"
Grand Adept Ma'jha-dro: "To give into despair, this is easy. Let us instead find strength in hope. Jone and Jode will one day shine on Star Haven again. This, we must continue to believe."