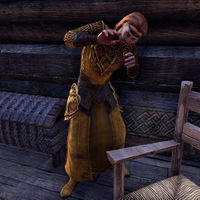 Acolyte Hjolt is a Nord worshipper of Meridia who can be found in the Stablemaster's House near Kilkreath Temple.
Related Quests
Edit
Quest-Related Events
Edit
Priest Bavian asks you to look for fellow survivors of the storm. She will tell that she noticed Priest Direnna, Acolyte Hjolt and the pilgrim Roligmolf head towards the stables when the storm hit.
When you enter the Stablemaster's House, you can hear Hjolt cry out:
Acolyte Hjlot: "Why has Meridia forsaken me?"
If you have Fennorian with you, he will try and calm him:
Fennorian: "Keep calm. We mean you no harm."
Hjolt can be found cowering on the second floor of the house, when you talk him he will be praying:
"High Priest Varkour will find me! Meridia will save me! When things are darkest, her light shines the way!
Please don't eat me …."
Priest Bavian sent me. I'm here to help.
"Priest Bavian? Where's High Priest Varkour? Did those horrible creatures get her?
We hid in the stables, but then Priest Direnna … changed. That's when I ran in here."
Go meet Priest Bavian and the others in the cave to the southeast. I'll check on Priest Direnna.
When you return to the cave, you find that Hjolt made it back safely but his mind in stuck on what he experienced at the stables:
"He … he ate them. Like it was nothing.
He ate the pilgrims … even the horses … like it was nothing!"