Oblivion:Fort Doublecross
The UESPWiki – Your source for The Elder Scrolls since 1995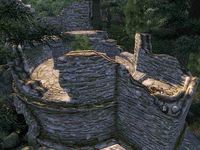 Fort Doublecross is a medium-sized fort northeast of Leyawiin containing necromancers. It contains three zones: Fort Doublecross, Fort Doublecross Caves, and Fort Doublecross Battlemage Muster.
Exterior
[
edit
]
The exterior is located at coordinates: Tamriel 28, -29
This location's map marker (M on map) is named Fort Doublecross (editor name FortDoublecrossMapMarker). The entrance door is N of the marker, 100 feet away.
0-2 Necromancer Enemies (each 50% probability Necromancer, 50% Undead) are near the entrance
3 Nirnroots are at locations N on map
1 Chest 02 can be found outside, in a mound of debris on the first floor up from the ground.
The following plants can be found near the entrance: 24 Clouded Funnel Cap plants, 88 Green Stain Cup plants, 3 Somnalius plants, and 7 Tiger Lily plants
The exterior of the fort offers some clues as to the profession of its inhabitants: you will find numerous coffins, one open to reveal a Zombie corpse.
Zone 1: Fort Doublecross

[

edit

]
In the second chamber you enter are one or two enemies, an altar with a zombie corpse and a stone slab (b) which you can sleep on. If you go up the stairs in the south corner you have a slim chance of meeting an Orc Adventurer at O but you are sure to find the door to the third zone (D), Fort Doublecross Battlemage Muster.
In the final chamber, proceed through the hole in the wall to access Fort Doublecross Caves through door C.
Occupants:
Treasure:
Doors and Gates:
There are three doors in/out of this zone
Other:
1 sleeping slab at location b on map
Zone 2: Fort Doublecross Caves

[

edit

]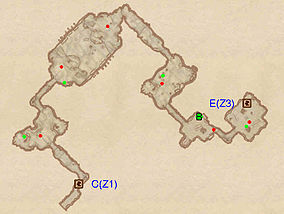 Although this is a Fort, this level is a cave. You can enter it from both Fort Doublecross through door C and Fort Doublecross Battlemage Muster using door E.
This level is fairly straightforward and un-eventful: simply make your way through the rooms, where you won't need to fight more than two enemies at a time, just make sure to loot the boss chest (B) in the room next to door E. In the long, rectangular-shaped chamber it is possible to fight the enemies one by one if you can kill the first one quick enough.
Occupants:
Treasure:
Doors and Gates:
There are two doors in/out of this zone
Zone 3: Fort Doublecross Battlemage Muster

[

edit

]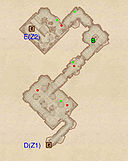 Like the second zone this one can be entered from both Fort Doublecross (door D) and Fort Doublecross Caves (door E)
Be wary if entering from door E as you start on a lower level and you could be immediately attacked by the necromancer nearby. In the next room you will find the Boss chest (B). In the corridor that links this room to the next be sure to quickly take out the necromancer, as the fighting could attract the other two enemies positioned in the final chamber.
Occupants:
Treasure:
Doors and Gates:
There are two doors in/out of this zone