Cinnabar Polypore Yellow Cap
00

08529B

3
0.1
Alchemy Effects
1st
 Restore Endurance
2nd
 Fortify Endurance
3rd
 Damage Personality
4th
 Reflect Spell
Sources
# Samples
16
Plant
Cinnabar Polypore
 %
50
# Plants
89 Total (87 in Tamriel, 2 in buildings)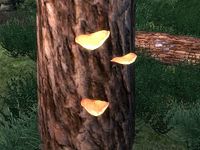 The ingredient Cinnabar Polypore Yellow Cap comes from the plant "Cinnabar Polypore", which is a somewhat hard-to-find mushroom that primarily grows on the sides of trees in the West Weald region. There is a second variety of "Cinnabar Polypore" which is red in color and yields Cinnabar Polypore Red Cap.
Without the Shivering Isles expansion pack, Cinnabar Polypore Yellow Cap is one of only two ingredients which can be used to create a Reflect Spell potion: at expert level it can be combined with Glow Dust. There are no negative side effects. Shivering Isles adds two more ingredients with Reflect Spell (also expert-level only): Watcher's Eye and Withering Moon.
Ingredients
Edit
16 guaranteed samples can be found. The places with the highest numbers of samples are:
It can also be found randomly in the inventories of alchemy vendors and in some loot chests.
The places with the highest concentrations of Cinnabar Polypore Yellow Cap are:
2 can be found growing inside: