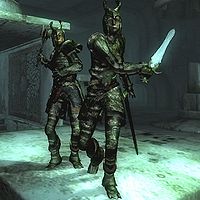 These two Ayleid Guardians appear in the Thieves Guild quest The Ultimate Heist.
They attack on sight after the door to the Imperial Palace is unlocked, unless you are sneaking when approaching. After the Ayleid Guardians are defeated, their bodies cannot be searched and their weapons crumble to dust if you try to pick them up.
The Ayleid Guardians are equipped with a set of elven armor with a special shader applied to give it a unique look.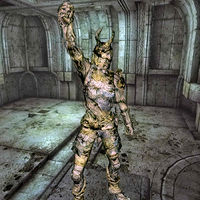 This guardian is armed with a unique Ayleid Long Sword, which is the equivalent of an elven longsword.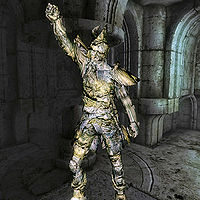 This guardian carries a unique Ayleid Mace, equivalent to an elven mace.
Related Quests
Edit
There is a trick so you actually can get the weapons from both Ayleid Guardians. You'll need to make yourself invisible for at least 30 seconds before the killing blow. Proceed to where the guardians spawn. It's best to get only one guard at a time to notice you there. Damage the guardian enough until it only has a sliver of health, then activate your invisibility. The guardian will move around for about 20 seconds and then sheath its weapon. Sneak up behind it and kill it in one hit. Make sure you're very close to it because you only have a few seconds in which you can choose to loot it. On the corpse is the Ayleid weapon, but you can't loot its armor. Rinse and repeat for the other guardian. Note that the Ayleid Mace and Sword are merely Elven weapons with special names. Also, if you ever drop them, they will "disintegrate" as in the quest, even if you've already beaten it. You can store them safely in chests or barrels, however. Doing this will also get you noticed by the Dark Brotherhood, as you are killing someone who made no move to kill you.
Another way to obtain their weapons is to use Skull of Corruption on them and kill the clone.
These two NPCs appeared as a card in Legends. They are also very similar to the Stone Watchers from ESO.