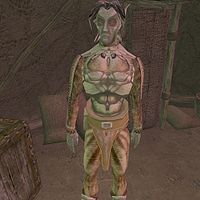 Zelay Sobbinisun is a hostile Dark Elf Ashlander scout located inside his yurt in Salit Camp.
He is a medium trainer in Long Blade and Athletics, and a minor trainer in Block, if you can manage to speak to him.
He wears four random pieces of chitin armor, an expensive shirt, and some common pants with matching shoes. He carries a random ashlander weapon. Aside from his natural resistance to fire and the sanctuary provided by his ancestors, he knows no spells.