Artifact: Ten Pace Boots

(tenpaceboots)



Type
Boots
Statistics
 Rating
80 (266 Max)
 Health
800
 Weight
60 (Heavy)
 Value
140,000
Enchantment
Charge/Cost = Uses
1,590/318 = 5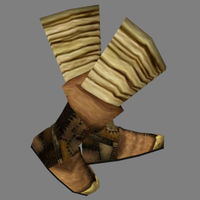 Not much is known about the origin of the Ten Pace Boots. They're made of heavy leather and provide superior travel when jumping.
The boots are found in a locked chest in the Inner Shrine section of Bal Fell (on an island far east of Vivec), in front of the statue to Sheogorath.
There is a bug with mesh for these boots, which makes your feet disappear while wearing them.