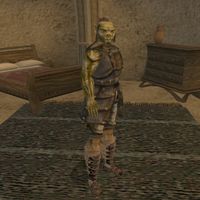 Snakha gro-Marob is an Orc warrior and a spearman of the Imperial Legion. He is found inside of Madach Tradehouse.
He wears an Imperial chain cuirass, Imperial chain greaves, netch leather boots and a pair of common pants. He wields an Imperial shortsword and carries 30 gold.
Like all Orcs, he has a natural resistance to magicka, and can boost his health, fatigue and attack for short periods, at the cost of agility, but otherwise knows no spells.