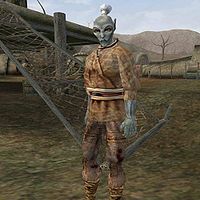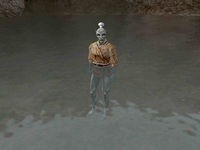 Hentus Yansurnummu is a Dark Elf miner who can be found standing in the river east of the silt strider outside of Gnisis. Hainab Lasamsi appears to have stolen his pants while he was bathing. Hentus will ask you to retrieve his pants. After returning his pants, he will be found wandering around the town, now wearing his pants.
Initially, his only possession is the common shirt he is wearing. Aside from his natural resistance to fire and the sanctuary provided by his ancestors, he knows no spells.
Related Quests
Edit
Greetings:
pants:

"I was taking a bath and Hainab Lasamsi stole my pants. Maybe you could talk to him and get my pants back."
"Those aren't my pants. Hainab Lasamsi has my pants." (if you have a pair of common pants in your inventory)
"You got my pants back? I wish I could stand up to Hainab like you did."

Give him the pants.: [3 Hackle-Lo Leaf added to your inventory; 1 Hentus Pants removed from your inventory] "I don't have much to give you, but I have some hackle-lo. Here, take it. Thanks for getting my pants back."
Keep his pants.: "You too? What did I ever do to you?"

"You got my pants back? I didn't like Hainab, but I didn't want him dead." (if Hainab is dead; options same as above)
"Thanks for getting my pants back."