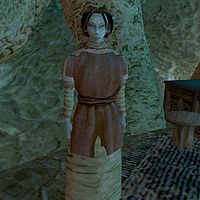 Falena Hlaren is a Dark Elf bard who can be found at Fara's Hole in the Wall in Sadrith Mora. She's also the lover of Hrundi, a member of the Fighters Guild located at Wolverine Hall.
Falena wears a common shirt with matching skirt, shoes, and ring. She also carries an iron flamesword, a lute, and up to 11 gold. Aside from her natural resistance to fire and the sanctuary provided by her ancestors, she knows no spells.
Hrundi's woman:

"You're asking the wrong girl. Leave me alone. There's nothing going on between Hrundi and me."
[Disposition ≥ 50] "You don't work for Sjoring Hard-Heart, do you? Okay, then, I'll admit it. Hrundi and I are lovers."
"You already know. Hrundi and I are lovers. When he saves up enough money, we're going to move far, far away from here."
Related Quests
Edit
Hrundi's Lover: Persuade Hrundi in Sadrith Mora's Fighters Guild to join the Thieves Guild against the Camonna Tong.