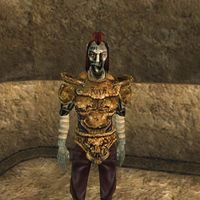 Eldrar Fathyron is a Dark Elf merchant located in the Canalworks in Vivec Telvanni Canton. His merchandise are slaves.
He wears a bonemold cuirass with matching pauldrons and boots and a common shirt with matching pants. He carries a steel frostsword, a few keys that can free some nearby slaves (see notes). Aside from his natural resistance to fire and the sanctuary provided by his ancestors, he knows no spells.
When asked about latest rumors, he will tell you: "The Bemis gang has taken up in the tombs somewhere under Vivec. I hope the guards catch them soon."