# of Zones
1
Occupants
Rats
Console Location Code(s)
Gnisis, Bethamez
Region
West Gash,

[-10,11]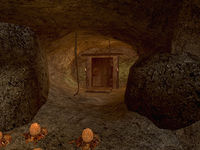 Bethamez is a Dwemer ruin located within the Gnisis Eggmine, accessible from the Lower Eggmine area.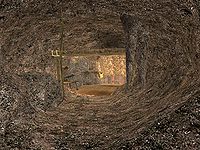 The ruin was discovered by miners looking for other revenue streams after becoming desperate when the kwama queen had become ill with blight. In the ruin, there are two rats that will attack you as soon as you enter. There are also two broken Dwemer centurions in the ruin: one is a centurion sphere, the other a steam centurion.
Bethamez contains a copy of the Dwemer Airship Plans sitting on the table next to the entrance, and the book Divine Metaphysics..., located under the same table (both needed for the Mages Guild quests below).
Related Quests
Edit