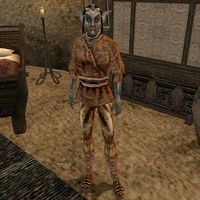 Athal Nerano is a Dark Elf rogue and Oathman of House Hlaalu who can be found inside Madach Tradehouse in Gnisis. He is very knowledgeable about the rogue's trade and will happily talk to you about a variety of different topics related to the trade.
He wears a common shirt, pants, and shoes. He carries a goblet along with up to 15 gold. Aside from his natural resistance to fire and the sanctuary provided by his ancestors, he knows no spells.
Athal Nerano is a part of the Nerano family, which has their own ancestral tomb.