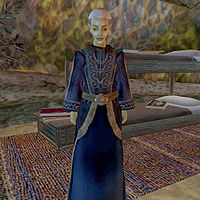 Ardarume is an Altmer mage located in the West Wing of the Gateway Inn in Sadrith Mora. She is the master trainer of Mysticism, and also a major trainer in Destruction and Alteration.
She is wearing an expensive robe with matching shoes. She is wielding a glass dagger and she is carrying The Affairs of Wizards. Aside from her natural weaknesses to fire, frost, shock and magicka, her natural bonus to magicka, and resistance to disease, she knows the following spells: Dire Weary, Great Feather, Strong Fire Shield, Strong Frost Shield, Second Barrier, Strong Shock Shield, Summon Clannfear, Wild Distraction, Drain Destruction, Drain Alteration, Drain Illusion, Drain Mysticism, Drain Restoration, Medusa's Gaze, Strong Reflect, Strong Spelldrinker, Wild Spelldrinker, Drain Blood, Absorb Personality [Ranged], Absorb Speed [Ranged], Blood Despair, Masterful Golden Wisdom, Masterful Red Wisdom, Masterful Silver Wisdom, Masterful Unseen Wisdom, Masterful Green Wisdom, Feet of Notorgo, Vivec's Mercy, Poet's Whim, Zenithar's Gospel, Toxic Cloud, Vivec's Wrath, and Quicksilver.
She will train you even if you are a vampire.