This article is about the Dwemer ruin. For the Third Era county, see Santaki (county).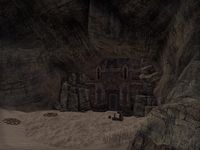 Santaki is a Dwarven ruin located in the Alik'r Desert, southwest of Sentinel.
The Guardian's Eye, an ancient Dwemer artifact, was once brought to Santaki for a brief maintenance, as found by Tharayya, a Redguard Dwemer researcher, in 2E 582.[1]
For game-specific information, see the ESO article.
References
Edit