Lore:Cormaris View
The UESPWiki – Your source for The Elder Scrolls since 1995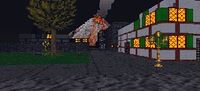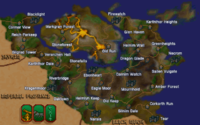 Cormaris View (also known as Cormar View)[1] is a settlement found in northwest Morrowind, near the city-state of Blacklight.
History
[
edit
]
Morrowind's defense against the Imperial Legion in the Tiber Wars was built across the northwest of the province in areas such as Cormaris View and Blacklight, as well as, Kragenmoor and Silgrad Tower. The defense was a motley crew of warriors from various aspects of the province, ranging from mercenaries of the Great House Redoran, Temple Ordinators, house noble militias, and the Buoyant Armigers. As time went on, Morrowind's defense dwindled, leaving only House Redoran to face this expansive empire. Cormaris View and the rest of the province was claimed by the Third Empire.[2]
During the Imperial Simulacrum in the late Third Era, the village of Cormar View was an active settlement. It was ruled by Lord Niskan, and it had a rivalry with Reich Parkeep.[1] Cormar View was neighbored by several settlements including Blacklight to the east, Reich Parkeep to the south and Skyrim to the west, towards Windhelm.[3][4]
In an early concept map of Morrowind, there is a settlement called Cormaris View found west of Blacklight. It was depicted as a settlement occupied by House Redoran.[UOL 1]
References
[
edit
]
Note: the following references are not from official sources. They are included to provide a rounder background to this article, but may not reflect established lore.