"We

bids 

[sic] you enter Snowhawk, where the wind is as sharp as its talons and as fierce as its name..."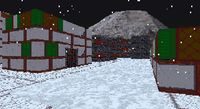 Snowhawk is a city-state located in western Skyrim. The ruler is King Torbens. Its rival is Solitude.
Locations
Edit
Inns

Crimson Chasm
Dirty Castle
Dirty Djinn
Flying Skull
Gold Sword
Haunted Mug
Lucky Chasm
Lucky Huntsman
Rusty Bird

Temples

Brotherhood of Charity
Brotherhood of Faith
Brotherhood of Mercy
Brotherhood of Temperance
Conclave of Mercy
Conclave of Riana
Order of the One Prophet
Order of the Red Rose

Stores

<random>'s Professional Sundries
Elite Weaponry Store
<random>'s Quality Sundries
<random>'s Tool Store
New Tool Store
Rare Accouterments
Rare Armaments
<random>'s Finest Sundries
The Emperor's Equipment Store
The Emperor's Supply Store
The Essential Gear Store
The Wyrm's Equipment Store
The Wyrm's Weaponry Store
<random>'s Equipment Store
<random>'s General Weaponry Store
<random>'s Supply Store
Snowhawk is a possible starting location for Nords.