"We bid you welcome to the arctic wastes of Solitude, the northern most City-State in the realm. Beware our might..."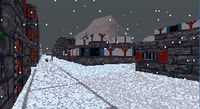 Solitude is a city-state on the northwestern coast of Skyrim, north of Snowhawk. The ruler is Queen Hania. Its rival is Snowhawk.
Locations
Edit
Inns

Black Albatross
Dirty Skull
Gold Cutlass
Green Locker
King's Crow's Nest
Laughing Albatross
Screaming Ship
Silver Serpent
Thirsty Serpent
Unfortunate Crow's Nest
White Dagger

Temples

Brotherhood of Charity
Brotherhood of Mercy
Brotherhood of the One
Conclave of Truth
Order of the Golden Tomb
Order of the Knights of Hope
Order of the Red Rose

Stores

Bargain Sundries
<random>'s Tool Store
Fenrik General Merchandise
<random>'s Merchandise
<random>'s Professional Tool Store
The Emperor's Accounterments
The Practical Merchandise
The Wyrm's Provisions
Unearthed Supply Store
Used Merchandise
Vintage Provisions
Solitude is a possible starting location for Nords.