"Alinor, forest city of Summurset, welcomes you to our gates. Know that the guards hold this city, and will fight any who challenge to keep it..."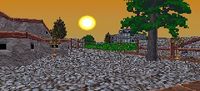 Alinor is a city-state located along the western coast of the largest island in Summurset Isle, west of Shimmerene and northwest of Sunhold. Its ruler is King Coreriil. Its rival is Lillandril.
Locations
Edit
Inns

Black Huntsman
Blue Griffin
Crimson Djinn
Dancing Dungeon
Dancing Ogre
Dancing Skull
Devil's Mug
Devil's Pit
Dirty Mug
Flying Bird
Flying Guard
Gold Castle
Haunted Helm
Howling Helm
King's Chasm
Laughing Cup
Laughing Pit
Laughing Skull
Lucky Huntsman
Queen's Dungeon
Queen's Wolf
Rusty Giants
Screaming Mug
Silver Golem
White Dungeon

Temples

Brotherhood of Charity
Brotherhood of the One
Conclave of Justice
Conclave of Truth
Conclave of the One
Order of the Golden Tomb
Order of the One Prophet

Stores

Bargain Tool Store
<random>'s Gear Store
Elite Accouterments
<random>'s Merchandise
<random>'s General Gear Store
<random>'s Gear Store
<random>'s Weaponry Store
<random>'s Tool Store
<random>'s Quality Merchandise
The Adventurer's Weaponry Store
The Emperor's Gear Store
The Essential Equipment Store
The Essential Supply Store
The Practical Gear Store
The Wyrm's Accouterments
The city-state Weaponry Store
Used Sundries
Vintage Equipment Store
Alinor is a possible starting location for High Elves.