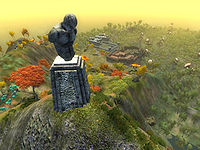 Mount Sheogorath is the highest point in the Shivering Isles.
Go south from Frenzied Camp climbing elevation as you go and you can't miss it.
The summit is dominated by a massive pillar base approximately four times the size of an NPC, oriented to the cardinal points. On the base is a massive bust that nearly doubles the height of the edifice. From the top of the Mountain, you get a spectacular view of most of the Shivering Isles- all of Mania and much of Dementia up to the islands beyond the Fringe.
The bust gazes westwards, towards the entrance of Dunroot Burrow, Sanctum of Decadence to its left, and the Stairway of Sheogorath to its right.
There are three Aster Blooms growing on the base.
The name of the mountain is a fan invention. No such name is found in-game.