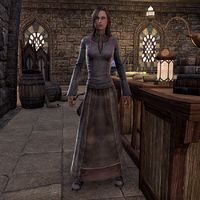 Veroine Gimbert is a Breton enchanter who runs The Mystic's Mirage in Sentinel.
She makes small talk.
"So you're an enchanter? Or just getting gout of the heat? I sell enchantments—top quality only. Poor enchantments can cause … complications."
If Rise of the Dead has not been completed, you can talk about the Ra-Netu.
The risen dead are roaming the docks. Be careful.
"I heard as much. In Daggerfall the city guard would have dealt with them already.
The people of Alik'r have proud traditions, but they take reverence for the dead too far."