This article could benefit from an image
of:
Fully upgraded and promotional render
See Help:Images for information on how to upload images. Please remove this template from the page when finished.
A semi-domesticated version of the wild senche-tiger, this distant relative of the Khajiit has been bred for size and manageability.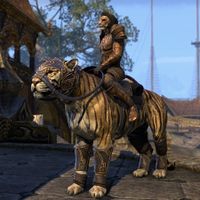 The Striped Senche-Tiger was rewarded for 300 days of subscription time as part of the discontinued Loyalty Program. Its default name is "Ratter-do".