Rindelma
Home Settlement
Lillandril
Race
Altmer
Gender
Female
Health
39959
Reaction
Justice Neutral
Pickpocket
Hard
Profession
Assassin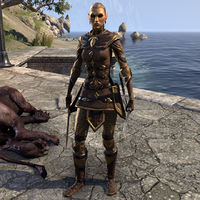 Rindelma is an Altmer assassin who can be found in Lillandril with Taryetinar. She appears to be in the exotic meat business.
When spoken with, she will comment on various meats she has or would like to procure and sample:
"With the border open, more orders have started coming in for exotic meat. Any idea where I can get my hand on some netch?"