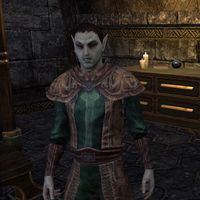 Nevos Hlen is a Dunmer noble found on the upper floor in the Sadri family house which is located in the town of Narsis.
"Some of my family traveled to the Serk to seek a cure."
"So many people have disappeared. At this rate, Narsis will be a ghost town before the moon grows full."
"With everything happening here, you'd think the kinhouse would take more definitive action."