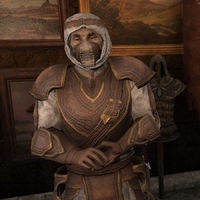 Narkhozikh is an Orc fence who can be found at the Outlaws Refuge in Sentinel.
When you speak to him, he will remark:
"Look what the desert winds blew in! Welcome, friend!"
"I do not haggle, but I pay an honest price. On that, you have my word!"
If you've reached your limit for both selling and laundering, he will instead say:
"I understand your frustration, but I have too much inventory at the moment."