Online:Manis Dral
The UESPWiki – Your source for The Elder Scrolls since 1995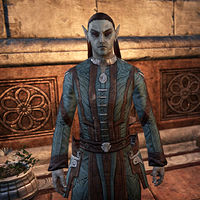 Manis Dral is a Dunmer member of the Mages Guild found in the hall located in the Hollow City.
Related Quests
[
edit
]
Quest-Related Events
[
edit
]
Upon Vanus' return:
Manis Dral: "Ah, my old friend! I thought we'd lost you."
Nalia: "What? It... it can't be!"
Vanus Galerion: "So good to see you all again, my friends! I'm glad we all made it here safely."
Nalia: "Vanny! You're alive! That's wonderful!"
Vanus Galerion: "Ah, dear Nalia! My heart fills with delight at the sight of you! Yes, I am safe."
Gabrielle Benele: "Where have you been, old friend? Trying to win the war all by yourself again?"
Vanus Galerion: "Well, yes, but I ran into a bit of trouble. Our friend here showed up and lent me a hand."
Nalia: "Well, then, you have our thanks. I'm not sure we could have gone on without... without Vanus...."
Vanus Galerion: "Cheer up, dear Nalia. I'm here now. But our mission isn't finished. We have to destroy the planar vortex and end the Planemeld."
Manis Dral: "Do you have a plan, old friend?"
Vanus Galerion: "I know what we need to do, I'm just not sure how we go about doing it. We need to discuss this with the Fighters Guild. We need a council of war."
When spoken to:
"I'm glad Vanus made it. I was afraid we lost the old braggart.
Vanus and I go way back. I'm not sure we could continue this mission without him."