Online:Lendonarin
The UESPWiki – Your source for The Elder Scrolls since 1995
Lendonarin
Home City
Elden Root
Race
Altmer
Gender
Female
Health
39959
Reaction
Justice Neutral
Pickpocket
Hard
Profession
Noble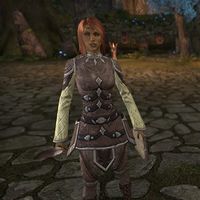 Lendonarin is an Altmer noble found in the city of Elden Root.
Talking to her, she'll tell you about her job here:
"This is wonderful. I am here drafting sketches for more involved pieces of artwork depicting Valenwood. I'm under contract with a group organizing scenic trips for the nobility of Summerst. So, naturally, I am expecting substantial profit."
"My commissions require me to travel across half of Tamriel. I am to see most of the Dominion's lands! It is already quite interesting."