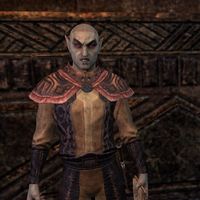 Govyth Areloth is a Dunmer noble of House Hlaalu found inside their kinhouse which is located in the town of Narsis.
Before starting any of the Narsis quests:
"This situation has made for an abundance of paperwork. Now, if you'll excuse me."
During For Their Own Protection:
"I think Giron's plan has merit."
"If Councilor Ralden continues to do nothing, Giron must take action."
"We can't allow the plague to gain a foothold in Narsis."
During Fighting Back:
"Why would Giron betray Narsis or his friend, Ralden? It makes no sense to me."
"What did Varon tell you? It's a lie! It must be! Giron would never betray us like the advisor claims."
During Hiding in Plain Sight:
"Giron? Working for the Maulborn? The very thought of it chills me to my bones."
"To think I supported Giron! The man is less than kwama droppings!"
After Hiding in Plain Sight:
"What happened to the House Councilor is unforgivable. I hope you made those responsible pay for what they've done."