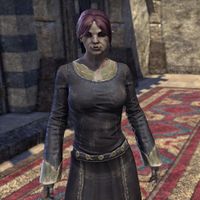 Glash gra-Dush is an Orc commoner who can be found at the Sisters of the Sands Inn in Sentinel, on the east platform of its southern wing. She idles around, often observing the city from the platform's edge.
When spoken to, she tells you about her predicament.
"My husband was supposed to meet me here for a drink after work. A few glasses of wine, some Redguard poetry ….
I suspect I chose the wrong tavern. Or the wrong husband."