Georges Ancois
Home Settlement
Koeglin Village
Location
Working the farm near the wayshrine
Race
Breton
Gender
Male
Health
25974
Reaction
Justice Neutral
Pickpocket
Medium
Profession
Commoner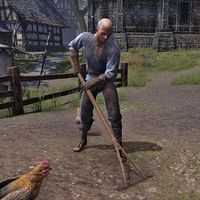 Georges Ancois is a Breton commoner who can be found in Koeglin Village. He cares for his chickens.
Speaking with him after the Koeglin Village objective:
"If the slavers come back, you have to let me know in advance.
I need to get my sweet little chickies inside."