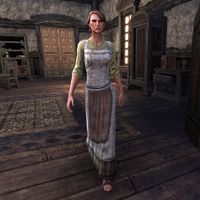 Flavia Scaeva is an Imperial who can be found in her home in Cropsford.
Related Quests
Edit
The List: Return murder victims' belongings to their loved ones.
"Let the alliances fight over the castles. As long as they leave Cropsford alone, I don't care what they do to each other."
You really don't care?
"Not at all. What have armies ever done for peasants, aside from kill us, enslave us, and ruin or steal our crops? Dominion, Pact and Covenant—they're just different names for the same mindless violence and evil."
After you have told her the news about her daughter's death, she will say:
"I'd really like to be alone. I need to mourn my daughter."
Do you know Varana Scaeva?
"Dead? No, you must be mistaken. She can't be … I'd have felt it. I even paid a bounty hunter to help find her."
The killer had these items. Do you recognize any of them?
"This scarf. This scarf was Verana's. She was always getting cold. She's really gone then.
I have nothing to give you. Thaellin took all I had, to find my daughter."
Do you know where Thaellin is?
"She said she was going to the northern shore of Lake Rumare, to look for Verana. If you find her, maybe she'll give you the coin I paid her.
Thank you again for bringing me Verana's scarf."
I'm sorry for your loss, Flavia.