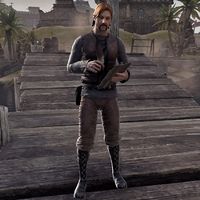 Ferrand is a Breton fisher found on the Sentinel Docks after you clear the Ra-Netu by completing the quest Risen From the Depths. He walks along the western pier and writes down notes as he inspects his cargo.
According to Note to Gilbard, Ferrand was previously smuggling Bloodthorn Cult members to Betnikh. Once he realized they were necromancers, he became disgusted with the act and ceased operations.
It also seems he joined Barjot Benoit and a group of adventurers to explore Carzog's Demise, or at least gave them passage to the ruin.
He will tell you:
"As soon as I finish taking inventory, I'm off to Wayrest. If you see a weasel-faced diplomat, tell him he'll have to book passage with a different captain."