Online:Captain Alphaury
The UESPWiki – Your source for The Elder Scrolls since 1995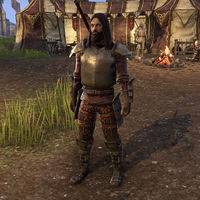 Captain Alphaury is a Breton member of the Fighters Guild. He is first seen on Stirk as heading security on the island during the summit meeting and is the leader of the Guild's forces heading into Coldharbour.
Unfortunately, he is scattered like everyone else who entered the Daedric Realm and finds himself on the wrong side of the Shadow Walkers Clan while he was traveling through the Moonless Walk.
Related Quests
[
edit
]
Dialogue
[
edit
]
While heading to the summit, with Vanus Galerion and Countess Hakruba. Vanus will point out the Captain to you and Hakruba will ask for a status report.
Vanus Galerion: "The captain is in charge of security, Alphaury, is over there."
Countess Hakruba: "Captian Alphaury. Has the island been secured?"
Captain Alphaury: "Aye. All ships have been diverted away from the island, and the wards are in place."
Countess Hakruba: "And the alliance leaders?"
Captain Alphaury: "They'll be here any moment. You three should get over there as soon as you can."
Countess Hakruba: "We're on our way. Thank you, Captain."
<Countess Hakruba walks away.>
Countess Hakruba: "We must make haste."
You can take the opportunity to speak with Captain Alphaury where he is optimistic about the meeting, "Security couldn't be tighter. This should go off without a hitch."
After the unforeseen daedric attack, the Alliances leaders will agree to allow the Guilds to head to Coldharbour. Alphaury will be among those waiting for Vanus to open the portal, he mentions he will be leading the Fighters Guild members into Coldharbour.
"I shall lead the Fighters Guild into this dreadful realm. We'll make the Lord of Schemes pay for attacking Nirn!"