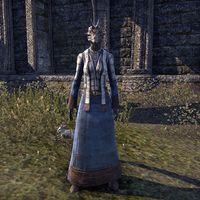 Blazing-Glory is an Argonian mage recently invited to study at the Shad Astula Academy.
Initially, she can be encountered at the Mournhold docks, awaiting to be transported to the school. If approached, she shares her thoughts.
"I'm one of the first Argonians admitted to the Academy since slavery was outlawed and the institution decided to open its doors to all members of the Pact.
I hope I can handle the pressure."
Upon arrival to Shad Astula, she can be found at the eastern pond, accompanied by a rabbit, Conjured Apparition. If spoken to, she explains its nature.
"Isn't this conjuration simply adorable? But when is Drifts going to come over and talk to me?"