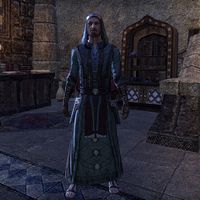 Audric is a Breton mage and a Magus who could be found on the ground floor of the Mages Guild Tower making notes, reading or sweeping.
He is aware of the undead activity in Sentinel and offers you his feasible help:
"Have you come to look over our books concerning the undead? Word has reached us that a blight has emerged from the waters surrounding the docks. I'm afraid our library doesn't contain any relevant literature—but please look over my other goods."
If you have cleared the docks but are completing Chateau of the Ravenous Rodent in Sentinel, he will instead wish you luck:
"I hear you're going to match wits with the Mad God! I don't envy you.
Might I suggest looking over my wares before you go? You never know what you might need in the Daedric realms."
Once you have returned from your journey to the Shivering Isles, he will welcome you back.
"I heard rumors of rats and all manner of lunacy in the Mad God's chateau. How dreadful! We're glad to have you back in Tamriel, safe and sound. Do you need to restock on any provisions?"