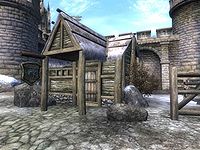 Wildeye Stables is a stable just east of the city of Bruma.
It is one of two places where you can buy a paint horse, the other being Five Riders Stables. You will get a free one at Weynon Priory during a quest.
NPCs Living Here
Edit
Edla Dark-Heart sees the horses at Wildeye Stables as prey and will occasionally kill them.

This bug is fixed by the Unofficial Oblivion Patch.
If you have a horse and fast-travel to Bruma, it will be placed in the stables and may become a victim of Edla's. It is best to use the north gate, or fast-travel to a nearby location and walk the rest of the way, to keep your horse safe.