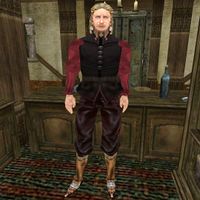 Sarnir the Clerk is a Nord savant who can be found inside of the End of the World tradehouse in Dagon Fel. According to people around town, he is an Imperial agent who has come to Dagon Fel to investigate the disappearance of a scholar. He will speak to you about Sorkvild the Raven.
He wears a common shirt, expensive pants, and expensive shoes. He carries 75 gold and wields a Nordic battle axe.
Aside from his natural resistance to shock, immunity to frost, ability to shield himself, and a natural frost damage spell, he knows no spells.
Sorkvild the Raven:

"He is known to the local people as a necromancer. His tower is to the east of town. He has, from time to time, tried to engage me in conversation on various topics, including Clavicus Vile and his legendary Second Era servant, N'Gasta the Sload. He is charming and personable, but I do not trust him."
"I doubt that many will mourn his loss." (if Sorkvild dies)