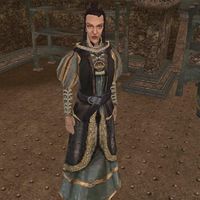 Pania Cadiusus is an Imperial noble who can be found exploring Nchuleftingth along with her father, Senilias Cadiusus, and Anes Vendu.
Unlike her father, Pania does not appear to have much interest in studying the Dwemer, often describing the excavation and the study of the Dwarves as boring. She does, however, express concern regarding Anes and will be saddened when she learns of his fate.
She wears an expensive shirt, skirt, belt, and shoes. Aside from her natural charm and ability to absorb fatigue from others, she knows no spells.
"I've been worried about him. Right before he left for the lower levels he kept saying something about the test of pattern. I hope he's alright."
"How horrible! No, please, don't tell me the details." (after you have located Anes)
"Without him around, I fear I will die of boredom." (after completing Nchuleftingth Expedition)
excavation report: "If you must talk about this boring excavation business, you should talk to my father Senilias."
If you have the book Hanging Gardens... in your inventory:
Hanging Gardens: "Frankly, all this study bores me. If you insist on talking about Dwarves, you should talk with my father."