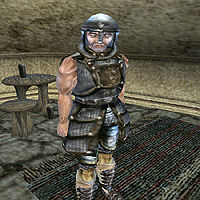 Oritius Maro is an Imperial warrior and Legionaire who is also a member of the Talos Cult. When persuaded, he allows you into the cult.
He is wearing an Imperial chain cuirass with matching greaves and coif, as well as netch leather boots and common pants. He is carrying an Imperial shortsword and a small key. Aside from his natural charm and ability to absorb fatigue from others, he knows no spells.
Related Quests
Edit
Oritius Maro
Talos Cult
[Disposition >=40]"You have interest in the Talos Cult? I can understand why. But, I have nothing more to tell you about this now."
[Disposition >=70]"I like you, [Playername]. Perhaps you could be of some use to us. Do you have interest in becoming a member of the Talos Cult?"
Yes, please tell me more.

"I thought you might. Here, take this key. It will unlock the door to the shrine downstairs. Look in the storeroom for the door. While you are there, speak with Arius Rulician. He can tell you more."

No, I'm not interested.

"Hmmm...a pity. I thought you might have potential. No matter. We needn't speak of this any further"