Morrowind:Netch Leather (style)
The UESPWiki – Your source for The Elder Scrolls since 1995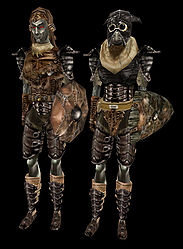 Netch Leather is a unique Dunmer light armor design with much higher craftsmanship than the typical Imperial Armor of the west. The armor, because it is more comfortable and affordable than other armors, is typically used by Morrowind nomads. Netch Leather is produced from the hides of Netch, which can be found floating above their pastures in the Ascadian Isles region.
This hide may be used straight, or boiled to produce a more durable variety. Only the Helm and Cuirass come in boiled variety. These are tougher than standard Netch Leather Armor and provide marginally more protection.
Netch Leather is not suitable for making weapons.
Name
ID
Enchant
Base Netch Leather Armor (Light Armor)
Totals
50
550
137
46.1

Netch Leather Helm

netch_leather_helm

3.0
50
15
5
7.5
Netch Leather Cuirass

netch_leather_cuirass

12.0
150
35
5
6
Netch Leather Left Pauldron
Netch Leather Right Pauldron

netch_leather_pauldron_left




netch_leather_pauldron_right

4.0
50
12
5
1
Netch Leather Left Gauntlet
Netch Leather Right Gauntlet

netch_leather_gauntlet_left




netch_leather_gauntlet_right

3.0
25
7
5
6
Netch Leather Greaves

netch_leather_greaves

7.0
50
22
5
1
Netch Leather Boots

netch_leather_boots

8.0
50
10
5
2.6
Netch Leather Shield

netch_leather_shield

6.0
100
17
5
15
Boiled Netch Leather Armor
Boiled Netch Leather Helm

netch_leather_boiled_helm

3.0
70
17
7
7.5

Boiled Netch Leather Cuirass

netch_leather_boiled_cuirass

12.0
210
37
7
6
Other Items
Netch Leather Tower Shield

netch_leather_towershield

9.0
100
25
5
22.5
Special Armor Items
[
edit
]
| | |
| --- | --- |
| Netch Leather Boots | |
| Netch Leather Left Gauntlet | |
| Netch Leather Right Gauntlet | |
| Netch Leather Tower Shield | |
| Boiled Netch Leather Cuirass | |