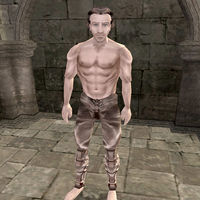 Alodie Jes is a Breton warrior and Knight Bachelor of the Imperial Legion found in Ebonheart. He is a high-ranking officer of the Imperial Legion serving jail time for an unknown crime in the prison of Fort Hawkmoth.
The Hawkmoth Prison Cell Key, which can be found on a nearby crate, opens the door to his cell. But since he does not have the "prisonerScript", it is not possible to free him. If you enter his cell, he will just ask what you are doing there.
His only possession is the common pants he is wearing. Aside from his natural bonus and resistance to magicka, and his ability to shield himself for short periods, he knows no spells.
"What are you doing down here?"