Lore:Jagged Lens of Compulsion
The UESPWiki – Your source for The Elder Scrolls since 1995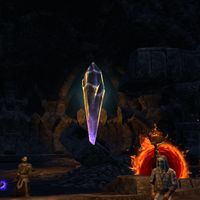 The Jagged Lens of Compulsion was an ancient Chimeri relic from the migration from Summerset. In the hands of the wrong mage, the lens can be used to entrance mortals, making them slaves to the user's will. Despite its dangerous nature, the academy of Shad Astula decided to keep the relic in its original location in the temple,[1] still linked to the Shad Astula Underhalls.[2]
During the Interregnum, the Jagged Lens of Compulsion was used by General Darvasen to enslave the students of Shad Astula and bolster the dwindling ranks of the Maulborn. Darvasen, the former assistant to Arch-Mage Valeyn, was previously expelled from the school for experimenting on another student using the Jagged Lens.[1] A disgruntled Darvasen passed his knowledge of the Lens on to the Maulborn, and assisted them in their invasion of the Academy.[2]
Shortly before the invasion occurred, the Soulless One snuck into Shad Astula by dishonestly acquiring an invitation to the exclusive Academy, and stopped Darvasen with the help of three other students. The Jagged Lens was destroyed to free the students who had been enslaved during the Maulborn incursion.[2]
See also
[
edit
]
References
[
edit
]
^ a b Dialogue with Arch-Mage Valeyn
^ a b c Events of Vision Quest