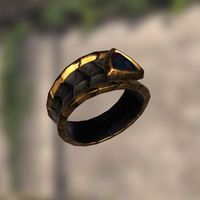 Jailmaster's Ring (LTUltimate.OffensiveSpellsRing)
Type
Ring Jewelry
Quality

Legendary

Player Level 30
Statistics
320
7,969
Description
These rings were worn by Dunmer jailmasters to honor their predecessors, including those who perished when the Ministry of Truth came crashing down.
Effects

Restores Magicka by damage done, up to 9 for light weapons, 12 for versatile ones, and 15 for other attacks.
Increases physical damage by 22 against targets suffering a condition.
Increases physical damage by 22 while Health is critical.
+3 Fireball Ranks
+3 Ice Spike Ranks
+3 Thunderstorm Ranks
Jailmaster's Rings are only available to be purchased from the Sigil Shop.