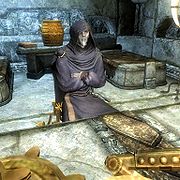 Maluril Ferano is a Dunmer scholar studying the Dwemer culture. He lives in his room in Mzinchaleft, along with many bandits who serve as his bodyguards. One of the bandits has the key to his room in his inventory.
Unlike his companions, Maluril is not hostile and it is possible to initiate dialogue with him. He will tell you that he is just a researcher studying the amazing facts about the long lost Dwarves. However, he is less innocent than he seems, as illustrated in his journal. This indicates that he attempted to flee from Bruma, in Cyrodiil, to Skyrim, but that the caravan he was traveling in was robbed by a group of bandits. He survived the robbery by hiring them to protect him and has been collecting coins to pay them ever since.
He is the assassination target during the Dark Brotherhood side contract Kill Maluril, which may explain what he is hiding from.
During combat, he uses a staff of firebolts but is otherwise quite vulnerable and should not be a difficult opponent. He wears blue mage robes and a pair of boots.
Related Quests
Edit
Last modified on 6 August 2013, at 07:10