Skyrim talk:Leveling
The UESPWiki – Your source for The Elder Scrolls since 1995
Skill XP
[
edit
]
The skill XP needed for the next skill level is almost proportional to the square of the skill level
Is the skill level in this equation current or next level? 193.190.253.150 says it's current level. --Xyzzy Talk 00:24, 2 July 2013 (GMT)
Overtraining
[
edit
]
About the note at the bottom of the Gaining Levels section:

I think "start training" should be "train".
The example is theoretical because it starts at Illusion level 1 and you can have no Illusion level less than 15. It would be better to use an example that one can verify in the game, such as "If you start from scratch, train Illusion from level 15 to 46 and then level up, your character level would be 6."
A calculation is missing and if I make a calculation based on the section "Level and Skill XP Formulae", I come to a different result: Illusion 1 to 44 gives 2 + 3 + ... 43 + 44 XP = 21*46+23 XP = 989 XP. Character level 2 starts at 100 XP, 3 at 225 XP, 4 at 375, 5 at 550, 6 at 750, 7 at 975 XP and 8 at 1,225 XP. The 989 XP would be character level 7 (not 6).
I suggest to make a separate (sub)section "Overtraining".
Curious man (talk) 05:33, 21 September 2013 (GMT)
Skill Experience
[
edit
]
So, this page has a lot of numbers and is a bit confusing... I just want to make sure I am understanding it correctly. Heavy Armor, for example, should reward 3.8 experience per point of damage you take, meaning you just need to take 139,160 damage to get it to Level: 100? Jahkayhla (talk) 23:57, 16 November 2013 (GMT)
Reaching Level 252
[
edit
]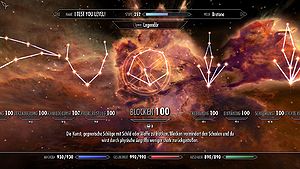 As in the main page mentioned all skills has to be over legendary level 9 to reach that level for gaining maximum perk points. Well I tested that by setting 16 skills only to legendary level 8 and 1 skill to legendary level 9 and at last setting one legendary skill to 10.
I haven't used the console instead I trained my charakter with some mods and some super trainers which were able to raise the skills of my char to 100 instead of 90. So that seems to be a legit test.
I am sorry to just provide a picture of the german version of Skyrim. But since there is no difference in the source code (just in strings) the result should be the same. The Dude (talk) 08:24, 1 December 2013 (GMT)
Need New Language for Armor Raw Attack Damage
[
edit
]
The language used for armor leveling is a little vague. Using "1 base XP per raw damage received" leaves some room for interpretation.
Can we use something like this instead? "1 base XP per enemy raw attack rating"
"Damage received" could be interpreted as the amount of player health that must be damaged in order to gain XP.
MyBreton (talk) 20:33, 22 February 2014 (GMT)
Enchanting XP gain
[
edit
]
In the table, it says you gain 1 point of enchanting XP for every "400 enchantment gold value of items disenchanted."
What does that even MEAN?! That doesn't even make any sense from a GRAMMATICAL standpoint, let alone a logical one! Is that even English?70.178.160.32 13:45, 24 February 2014 (GMT)
i think it means 1 xp for each 400 gold your disenchanted item is worth
Level Related Pages
[
edit
]
I went to the leveling page to get an idea of what to expect at each level as I'm planning some new characters. However, many aspects of leveling don't have an entry here, a link or in some cases not even a passing mention. I'm talking about level related creature spawns (both in dungeons and out- the Oblivion section listed the specific type of encounter zone you went through travelling the roads and what level corresponded to what creature, which was really helpful). On top of that It would be nice to know quest reward, generic reward, weapon/armor materials spawned and world interactions related by level. There really should be a chart for each pc level "at a glance" as it were. As it stands now, you have to go digging for several different pages. Just my two cents, anyway. 174.71.1.108 21:37, 9 February 2016 (UTC)
Leveled Item "wrap-around" after 81
[
edit
]
I was wondering if anyone knew if the leveled lists ever wrap around a certain point after 81? I'm currently playing a character around lvl 180 and when I get leveled loot, its often say a long bow instead of a ebony bow, and merchants carry far more steel and iron than even glass, and there's no ebony, daedric, or dragoin gear. Just wondering because I know in oblivion with attributes if you leveled up too much the effect would wrap back around and start over. 32.213.36.188 16:03, 2 July 2016 (UTC)
Outdated page, exploits fixed by USKP / USSEP
[
edit
]
You cannot take back gold paid to Faendal for archery training, as it does not appear after paying him for his services. I would hazard a guess that other "exploits" discussed on this page have been fixed, but I am unable to devote the time to going through them on a one-by-one basis. 108.233.128.200 15:05, 25 February 2019 (UTC)