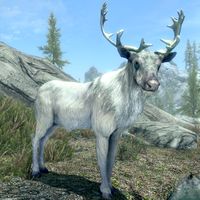 The White Stag is a unique animal which appears during the quest Ill Met By Moonlight. It's much larger than a normal deer, and its fur is much lighter as well.
According to Sinding, the stag roams Falkreath Hold while Hircine awaits a hunter skilled enough to kill it. However, the stag does not appear until the related quest is started.
Related Quests
Edit
The body of the White Stag doesn't seem to disappear.