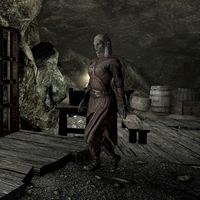 The Vampire Naturalist is a Dark Elf vampire who can be found within the secret vampire lair in Cronvangr Cave. She is responsible for taming Arachnia, a blue frostbite spider she keeps locked in a nearby cage, whom she uses to harvest frostbite venom to torture her victims before drinking their blood.
She wields a leveled sword or war axe up to elven quality in combat and wears vampire armor or vampire robes with matching boots. She carries the Spider Cage Key and her journal, along with a poison, some jewelry, and a small amount of gold. She drops a sample of vampire dust upon death.
She spends her time wandering around the crafting area in the vampire lair, pausing to use the alchemy lab or stand over the desk next to Arachnia. She is hostile and you will need to kill her to obtain her key during the related quest.
Related Quests
Edit